JOINAUTOMATION
Labeling and bag closer system with pedestal and automatic infeed device A3-PT3+GS-9C+GP6000-2+BQJ-H
stars, based on
0
reviews
JOINAUTOMATION SEWING EQUIPMENT CO., LTD
Labeling and bag closer system with pedestal and automatic infeed device A3-PT3+GS-9C+GP6000-2+BQJ-H.
The overall material is carbon steel, which is suitable for applications in various industries. Movable casters are convenient to move the equipment, and the base is strengthened to ensure the stability of the equipment. The whole plate is cut and welded, with beautiful appearance and reliable quality.
The GS-9C bag sewing machine adopts a sealed built-in oil tank lubrication system. It is the fastest sewing machine on the market today. It is suitable for all kinds of bags; the speed can reach 25 m/min.
The automatic labeling machine consists of a motor control system, a belt conveyor system, and a mechanical gripper system. The start and stop of the whole machine is controlled by a photoelectric switch, and its speed can be adjusted arbitrarily according to the speed of the production line, which is suitable for the automatic labeling of the bag mouth in various industries.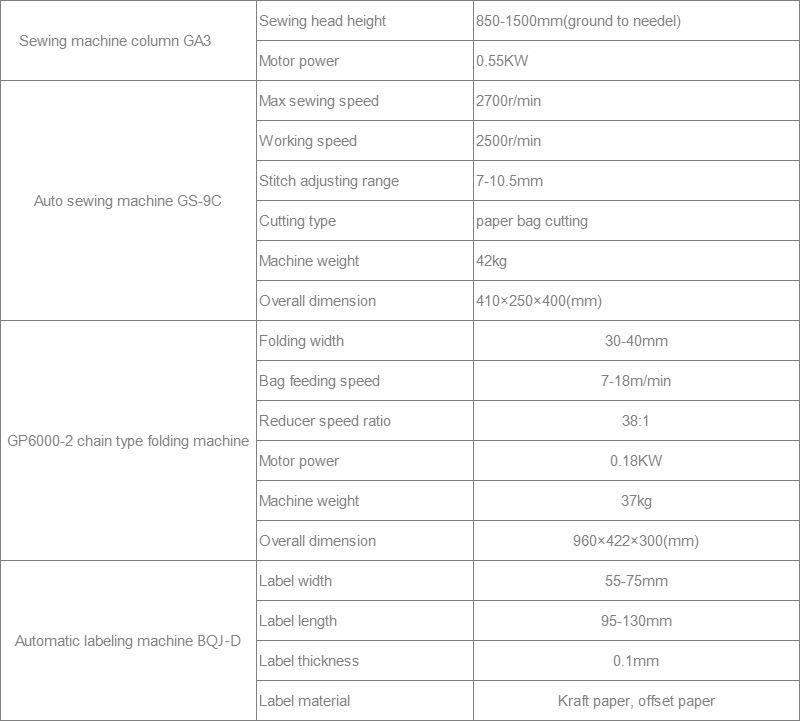 Your cart is currently empty.