JOINAUTOMATION
A1-PT2+GS-9C+GP1360 bag closer system with pedestal and automatic infeed device
stars, based on
0
reviews
JOINAUTOMATION SEWING EQUIPMENT CO., LTD
A1-PT2+GS-9C+GP1360 Bag closer system with pedestal and automatic infeed device unit for bag top folding and sewing.
The whole machine is made of carbon steel, which is suitable for various industries. Movable wheels facilitate the machine movement, strengthen the base and ensure the stability. The machine body is whole cut and welded plate with beautiful appearance and reliable quality.
PT2 drive control system adopts two frequency converters to control the folding device and sewing head working speed respectively, easy to operate. All electrical components are imported brand to ensure the whole machine stability. At the same time, a conveyor power interface is reserved to connect with customer's system. The system can be seamlessly connected with other automation equipment due to its interlocking function.
GS-9C sewing head is suitable for various materials packing bags. All parts are dust-proof due to the completely sealed built-in oil lubrication system, which prolongs the service life of moving parts and reduces the maintenance cost.
GP6000-2 automatic infeed device (chain folding type) is the company latest developed automatic plastic woven bag bending unit, which has the characteristics of advanced structure, large adjustment range, superior folding performance, simple operation and convenient maintenance. It can be comparable with the international advanced one! The packaging bag sealed performance is greatly improved after folding by this unit. The package is firmed, loose package, missing package phenomena are effectively prevented. It can be installed on the pedestal and used together with GK35 series sewing heade and GS-9 series sewing head. Widely used in the packaging production line of grain, chemical industry, port and other industries.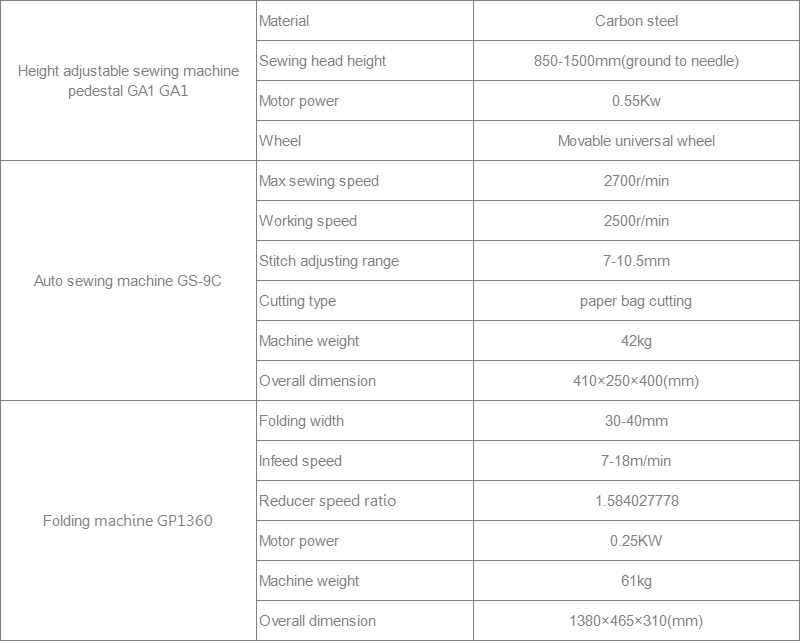 Your cart is currently empty.